Repeatable Revenue Generation
A step-by-step guide to moving beyond referrals for digital service, marketing, and design firms.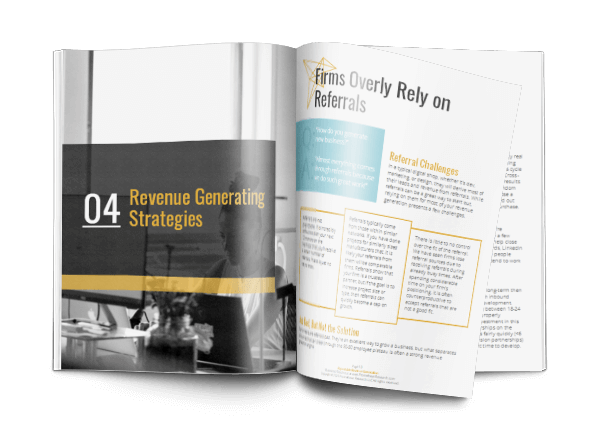 Repeatable revenue generation requires investment in the strategy and structure that most closely aligns with your company's goals. If you need revenue now, pick up the phone and upsell a service to an existing client or send a cold email to a new prospect. If the firm is at capacity and you're interested in longer-term revenue generation, invest in business development and inbound marketing. Use pay-per-click to cover the interim.
The profitability and scalability of your firm will depend on your strategic mix and this can be adjusted to meet your specific goals.
In this guide we explore key considerations when selecting a strategy and walk you through how the typical firm is set up and what successful firms do when they grow.
The objective of this guide is to provide a high-level understanding of the various strategies and structures that are in place at typical and successful firms. It is a composition of our primary research with hundreds of digital service, digital marketing, and marketing technology firms. This primary research has consisted of online surveys, interviews, and client work over the course of five years.
Download The Full 35-Page Guide
Get instant access to the full Repeatable Revenue Generation Guide
In this guide you'll learn:
How a standard shop structures its marketing, sales, and business development teams.
What works for successful firms versus standard shops.
An overview of the main revenue generating functional areas.
The top 5 revenue generating strategies used by digital shops.
Comparing and contrasting the various strategies across key factors.
Most new revenue is still generated from referrals.
The average 25-person firm has just over 1 dedicated salesperson and 1-3 dedicated marketers.
A founder or partner is almost always involved in revenue generation regardless of the size of the firm.
There is a marketing funnel, and a sales funnel, and they're separate.
Business development, marketing, and sales can and should all support one another.
In a standard shop of 25 employees, the responsibility of revenue generation typically falls on a partner, the CEO, or sometimes 1-2 salespeople (a Sales Development Representative – SDR, and a closer). There is typically a marketing professional that manages design and content direct reports, but there is rarely a formalized lead generation process. Sales processes are also typically bare bones. Our experience has shown that account management can fall under sales, but it normally lives under operations. Business development is typically under the CEO's responsibilities, but we have seen cases where there are dedicated business development professions that report directly to the CEO.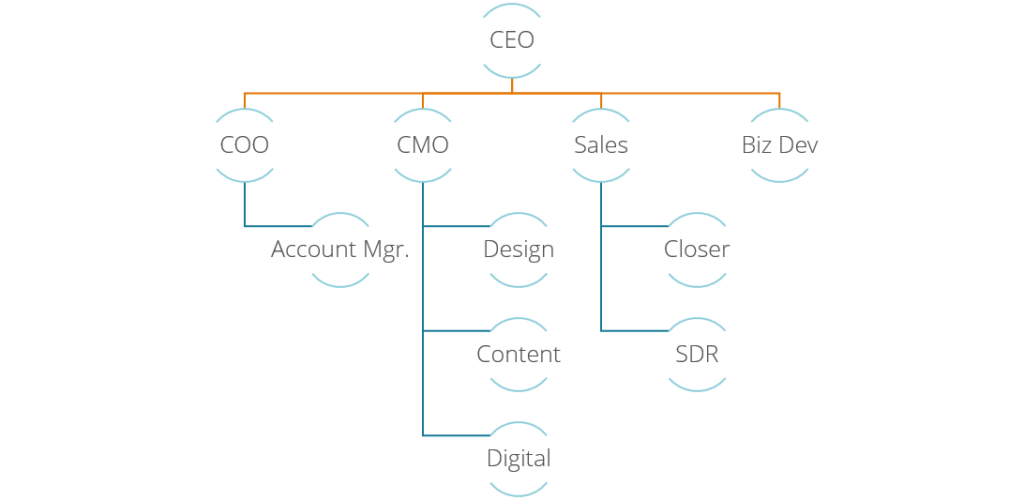 More About How We Help Agencies
We're a boutique research and strategic consultancy. For more information on who we are, what we do, and how we do it, check out our main site.