2019 Digital
Marketing
Agency
Outlook
Agency executives are optimistic about 2019 but anticipate increased competition. This report connects the dots on the drivers and expectations for the coming year.
U.S. executives and owners at digital agencies provided commentary about business conditions in 2018 and their expectations for 2019. Survey respondents reported general optimism around the coming year although many of those surveyed expect to grow via market share gains. However, it is not possible for everyone to take share and this could lead to significantly increased competition among agencies in the coming year.
The objective for this report is to better understand agency manager's expectations for the coming year, along with a review of the last year.
This report is a compilation of responses from agency owners across the United States. An online survey was conducted with the purpose to collect insights from agency leaders to better understand the market in 2018 and gauge their expectations for 2019. This report was published December 2018
This survey was open to respondents in the United States during October and November of 2018.
The survey focused specifically on the outlook of agency managers. Of the total respondents, 2/3 held the title of CEO, President, Founder, or Owner. The other 1/3 were owner/director/or other c-level executives.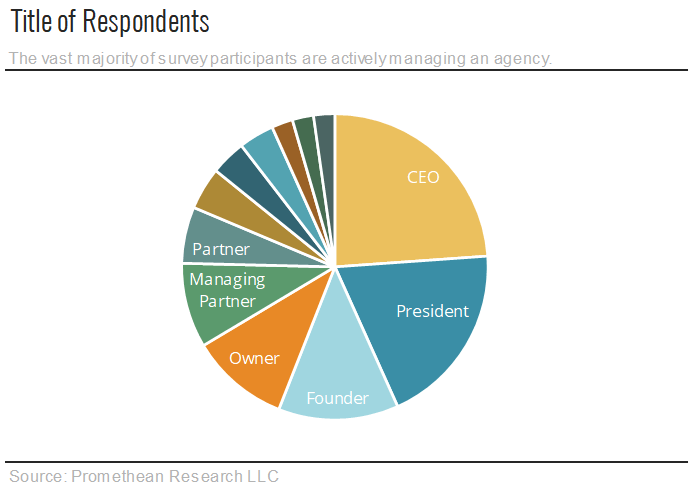 Survey respondents reflected the size of agencies in the marketplace. 40% of respondents were from agencies with 2-10 employees, 36% were from agencies with 11-50 employees, 19% were from agencies with 51-200 employees.
The average agency in the survey has been in business for 13 years.
The main service offered was Web Design / Development. The next most common services were Content Marketing, Search Engine Marketing, Social Media Marketing, Pay Per Click, and Other Traditional Marketing. The least-offered services were Affiliate and Influencer Marketing.
Indicators point to an increase in revenue-per-employee, with results indicating the average is $170k/employee.
The trend away from retainer work continues with 55% of agency work being project-based in 2018.
Web design and development drives the majority of revenues and profits.
Agency executives and owners are optimistic about 2019 and most expect their businesses to improve markedly in the coming year.
Competition among agencies is growing and is expected to intensify throughout 2019. Most agencies expect to grow by taking share at the expense of others.
Get instant access to the full 2019 Outlook report
Subscribe
Monthly updates on our latest proprietary research, thinking, and updates designed to give you the information you need to build a more successful agency.